New Shaking Gold Sluice Box/Portable Underflow Gold Sluice Box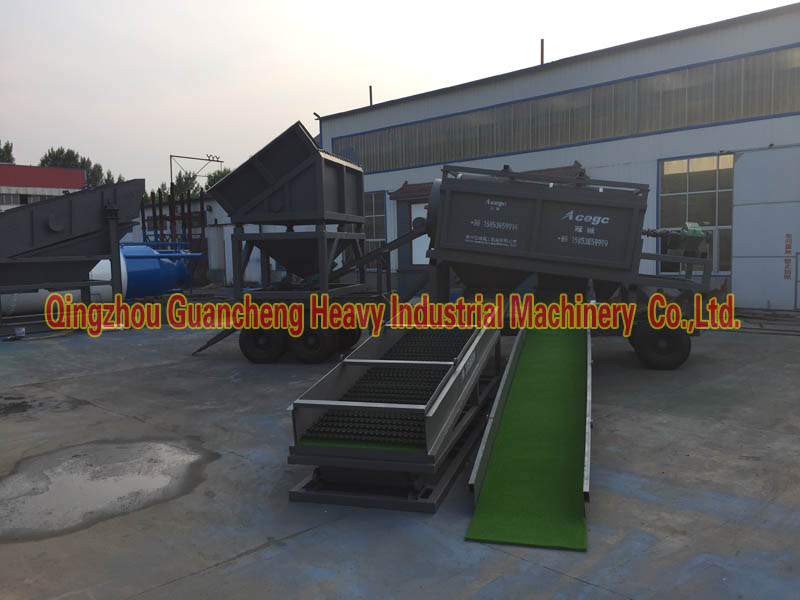 Our new product shaking Sluice Box is our patented product,we are the first factory develope this peritaltic sluice machine.
Shaking sluice box is one of the most important equipment for gold mining,which mainly consist of the hooper,sieve plate,gold carpet ,peristaltic chute and electric motor.
Working principle : Due to its unique and innovative structure, the plate let the water flow formed numerous small vortex,and the chute has an acceleration of the peristaltic force toward the opposite direction of the water flow,completely overcomes the phenomenon of harden, virtually increasing mineral picking time, and gravel stripping time. To sum up two points, for the capillaries and flaky gold selection to create a good condition
Gold washing plant is widely used in alluvial gold, placer gold, gold sand washing plant. We use this gold washing plant to separate the gold sand to different size, then different size material go to the next step of concentration,gold jigging machine, gold centrifugal, gold sluice box, shaking table are used after separating from gold washing machine.

Main Features
1)The length can adjust,higher recovery rate to particle gold,capillaries and flaky gold
2) Can reach 40-80 tons per hour
3) Simple structure & reliable operation
4) Simple structure & reliable operation & easy to control
5)Less trouble & small energy consumption& small water consumption
6) Motor controller system
7) Movable, and engage small area. suit for mobile gold wash plant
Detail parameter
| | | | | | |
| --- | --- | --- | --- | --- | --- |
| Size (m) | Processing Capacity (m3/h) | Power (kw) | Water Supply (m3/h) | Recovery Rate (%) | Weight (kg) |
| 3.2*1.4*0.8 | 20-25 | 3kw | 40 | 90 | 700 |
Qingzhou Guancheng Heavy Industrial Machinery Co.,Ltd.
+86 536 3593111
地址:Dongjiande Village, Huanglou Street Office, Qingzhou, Shandong, China (Mainland)
电话:+86 536 3593111
传真:+86 536 3593111
手机:+86 15653473333,15053659999
Email:1592999333@qq.com