Mobile gold trommel concentrator mining machine on land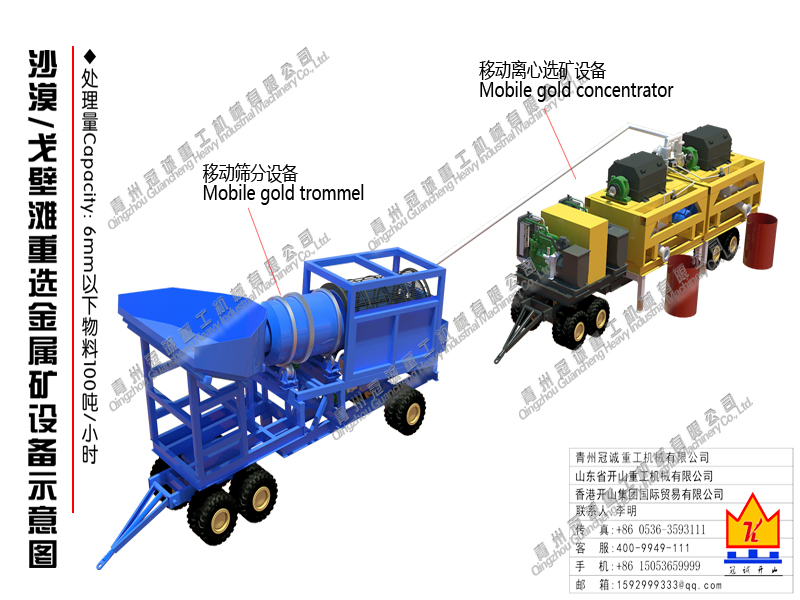 Brief introduction-Gold mining machine,mining machinery
This set of gravity separating plant is mobile horizontal concentrator work plant,≤6mm material work capacity 100ton/hour,is newly design and update with customer's actual inquiry and the experience with gold separating,it can be moved and operating very easily with low failure and easy maintance etc. This plant is for materials such as gold,tin,lead zinc ore etc.
The main advantage:
Easily moved and the worksite change

With feeding type of sand pump+input speed reducing box,if work with other mining plant,no need of seeking drop in vertical level and laying foundation

Can work well with other mining machines,such as vibrating sluice,pulsating sluice,gold dredger etc to high recovery

The feeding type can be changed easily to be hopper,the installation need very little human work.

The horizontal gold concentrator can be worked very well on truck chasis and steady,automatic controlled by PLC with more efficient

This plant with two feeding systems which can be replaced simply and conveniently: (1) feeding type of sand pump and input speed reducing box; (2) feeding type of feed hopper; can be used excavator or loader to feed. This plant can work alone or with other mining plants and especially worksite that often need to be moved
Detail parameter-Gold mining machine,mining machinery
Production Name

Specification

Power
/KW

Quantity

Unit price

Total price

Remark


Mobile gold trommel

Feed hopper 1set
Reamer trommel diameter 1.3m,length 2.2 including reamer all over the trommel
Gold trommel inner diameter 1.3m outer diameter 1.6m,screen mesh 3m
Engine:7.5KW motor
Truck chasis 4axles 16tyre,including driving&directions system Sand Pump 6inch+30KW motor
Water pump7.5KW submerged pump 1set
Electric box1set

45

1set


Mobile gold concentrator

Truck chasis Heavy truck chasis,4axles 16tyre,including driving&directions system
hydraulic system Hydraulic station 5.5kw
Centrifugal concentrator1200#automatic discharge 2set,21.5KW/set
Centrifugal water pump:11KW 1set

Electric box:1set

59.5

1set

The pipe

Pipes for 6inch sand pump

-

10m


The clamp for pipe

6inch

-

2pcs


The pipe

Pipes for 4nch sand pump

-

300m

The joint

4inch

-

60pcs


The clamp for pipe

4inch

-

120pcs

The diesel pump for main water resource

diesel engine 6100

-

1set

Total power

about 110KW
Qingzhou Guancheng Heavy Industrial Machinery Co.,Ltd.
+86 536 3593111
地址:Dongjiande Village, Huanglou Street Office, Qingzhou, Shandong, China (Mainland)
电话:+86 536 3593111
传真:+86 536 3593111
手机:+86 15653473333,15053659999
Email:1592999333@qq.com