Mobile gold car gold mining machine on manufactruing
The mobile gold concentrator car is on manufacturing.
The detail features of this gold mining machine as below.
This set of Mobile trommel mining machinery,raw ore capacity 200-300ton/hour(Material≤6mm capacity 80-100ton/hour),high recovery with the mineral,this machine with new design and very low maintenance,the details:
1).Feeding system
Feed hopper with high pressure water swilling to ensure the well-distributed of mineral,
2).Screening system
The trommel screen with efficient chain driving design,uniform and high Kinetic energy transmit , effectively saving of power consumption;
The inner sieve is made by punching process, which contains multiple reamers covering the whole inside, which can fully wring and eluting the material, which greatly improves the screening efficiency.
The water supply system is using central water supply and side water supply, the central water supply directly flush and swill the material on bottom of roller, the side water supply is flushing and preventing the outer layer from being plugged.
3).Mining separating system
The mining system with horizontal automatic discharge centrifuge concentrator and fixed sluice guarantees long work life and recovery rate;
The centrifuge concentrator using horizontal automatic discharge type,the advantage comparing with traditional vertical type: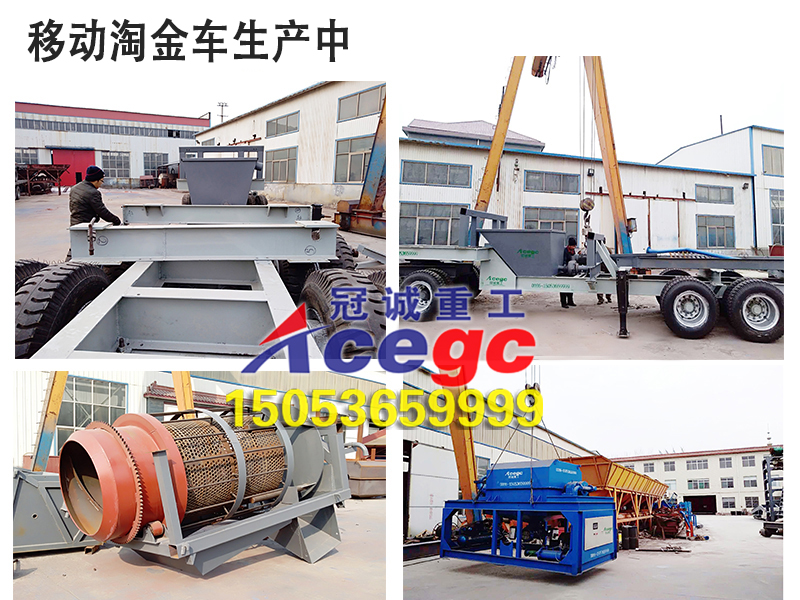 Qingzhou Guancheng Heavy Industrial Machinery Co.,Ltd.
+86 536 3593111
地址:Dongjiande Village, Huanglou Street Office, Qingzhou, Shandong, China (Mainland)
电话:+86 536 3593111
传真:+86 536 3593111
手机:+86 15653473333,15053659999
Email:1592999333@qq.com