The gold separating plant send to Russia customer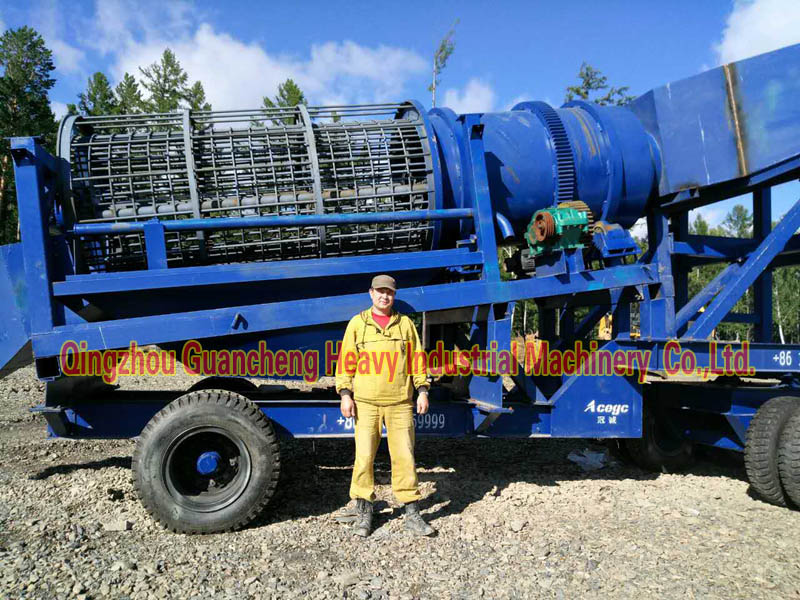 This gold mining machinery separating car including 2units,the 1st unit is gold trommel classifying unit car,the 2nd unit is movable Knelson series centrifuge car to get gold concentrate.
It can be easily feed by excavators or other types
It can be easily moved&circled in 180 degree
The base plate use heavy trailer type,good performance of steady and reliable work.
The inner of reamer trommel screen including 4 reamers so it can be worked in high efficiency and make minerals more clean.
Water supplying system: washing on top of hopper the then pushing the mixture to flow to the screen,washing in middle of screen which is the most principal,washing in screen outside it can clean the material carefully and avoid the gambling plug.
The movable gold reamer trommel separating car with 1set horizontal auto discharge concentrator,feeding type is by 1set sand pump,with 4 mechanical holding frames,working in reliable and steady surroundings.(the horizontal concentrator is with spindle 2side fixed,it can a very good performance in jolting surroundings instead of vertical type which can only be used on ground level)
It works well with high recovery with gold mining machinery horizontal automatic discharge centrifuge concentrator.
QingzhouGuancheng heavey machinery industrial co.,ltd is a famous for our Gold mining machinery,Knelson series centrifuge,Gold gravity separating equipemnt,Alluvial gold separatting device,Gold water separating machine,Centrifugal concentrator,Gold dredger,we can provide type of mining solutions and any requirment of you pls contact us freely.
Address:Xijiande Village huanglou office,Qingzhou city,Shandong province,China
Email:admin@guanchengzhonggong.com
Mobile phone:008615653473333/13406472759
TELL/FAX:0086-536-3593111
Qingzhou Guancheng Heavy Industrial Machinery Co.,Ltd.
+86 536 3593111
地址:Dongjiande Village, Huanglou Street Office, Qingzhou, Shandong, China (Mainland)
电话:+86 536 3593111
传真:+86 536 3593111
手机:+86 15653473333,15053659999
Email:1592999333@qq.com